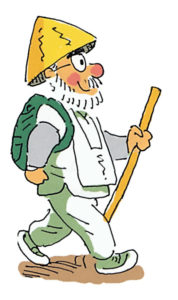 I walked the Shikoku Pilgrimage in March, April 2018 and in October, November 2019.
Early in the morning, at the start of the walk, temperatures were between 45 °F and 54 °F (7° C and 12° C). The daily maximum temperatures were between 63 °F and 73 °F (17° C and 23° C). My equipment was adapted to these temperatures.
During the walk, there were several days of continuous rain.
I spent the night in henro houses, guest houses and temple accommodation. I did not sleep outdoors. Accordingly, I did not have a tent, sleeping mat, sleeping bag etc. with me.
For your own packing list, you should adapt my recommendations. To the season in which you are travelling and to your personal needs.
One of the most important pieces of equipment for your pilgrimage, which is 85 % on asphalt and 15 % on nature trails in Shikoku's mountains and hills. Your shoes should be suitable for both surfaces and have a pronounced profile. Even in the warmer months, it can be slippery in the rain.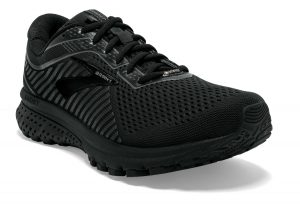 It is recommended that you buy your shoes a half to one size larger than normal. Feet swell from the long distances, the high temperatures and the hard asphalt during the walk.
I do not recommend any particular shoes for the hike. The feet and the requirements of the hikers are too different for that. For many pilgrims, heavy walking shoes are not suitable because of the high weight and the cushioning, which is too weak for the long asphalt stretches. Ankle-high shoes with good cushioning, low weight and profiled sole are often the better choice. Additional cushioning insoles are helpful.
It is advisable to get information from specialist shops and to break in the shoes well before starting the Shikoku pilgrimage. On my pilgrimage in March, April 2018, I wore a multifunctional shoe (Meindl Exaroc GTX). In October, November 2019, because of the even better cushioning, I opted for a road running shoe (Brooks Ghost 11 GTX), which cushions the harshness of the long asphalt stretches even more. These shoes were a very good fit for me. 
It makes sense to equip the shoes with Gore-Tex. Such shoes are waterproof and windproof, and at the same time permeable to water vapour and breathable.
Should absorb moisture well, dry quickly, cool or warm, depending on the season and your own requirements.
To prevent blisters, double-layer socks are a good choice. This means that the two layers of the sock rub against each other and not the sock against your skin. A similar effect can be achieved by putting two socks on top of each other.
I had no problems with blisters on my second hike of 2019. The combination of a highly cushioned running shoe and double-layer socks (Wrightsock Coolmesh II) was ideal for me.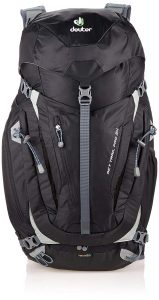 On my pilgrimage, I used a backpack from Deuter, with a volume of 34 litres and a net weight of 1.5 kg (ACT Trail PRO 34).
The decisive factors for my choice were very good back ventilation and a comfortable hip belt. The integrated backpack cover for rainy days was also important.
Like the shoes, the backpack should also meet your individual requirements in terms of features, comfort and size and be light.
Before you leave for Shikoku, test your backpack thoroughly to see if it is suitable for you.
I was satisfied with the Deuter backpack in every respect. My companion also for the next pilgrimage.
Backpack cover for rainy days
In heavy or prolonged rain, the rucksack's rain cover keeps the contents largely dry.
Experienced hikers additionally pack the entire contents in a robust plastic bag. A larger refuse bag can be used for this purpose. The contents of the rucksack are thus additionally protected from moisture.
Clothing, sun protection, rain protection
Washing machines and dryers are available in many accommodations for a small fee. Washing powder is available.
It is therefore sufficient to bring two sets of hiking clothes and two to three pairs of socks and underwear.
In Ryokan, Shukubō and hotels, pyjamas (yukata) are provided for the night.
Clothing should be comfortable, durable and functional, quick drying. Hiking trousers and shirts are well suited. Cotton clothing is not recommended. Cotton gets damp quickly during hiking, retains moisture for a long time, and dries only slowly.
Headgear – recommended. A multifunctional scarf (bandana) weighs little and can also be used as a head covering. Those who walk with a pilgrim's hat "sugegasa" do not need a sun hat.
Sunscreen – a small pack is enough. Buy more on Shikoku if necessary.
Sunglasses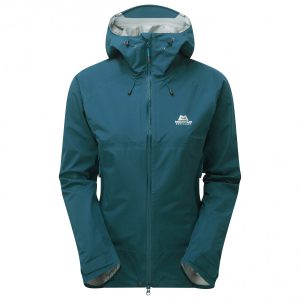 Rain pants and rain jacket – your decision should depend on the time of year and the likely climatic conditions. If you are heading out in late autumn/early winter, you should be better protected against cold rain due to cooler temperatures than in April or May.
Rain poncho/rain cape – available in various configurations. With extension for backpacks; storm protection against sliding up, etc. Very good rain protection, not breathable, "sauna effect" when temperatures are high.
Umbrella – sufficient for light rain.
On my pilgrimage in 2018, I had a rain poncho with me and had good experiences with it. In 2019, I only took a rain jacket with me to save even more weight and packing volume. I managed well with that too. In the early morning hours and on colder days, the rain jacket was also worn as an additional layer.
An umbrella I didn't take with me. As an alternative for light rain, the pilgrim's hat "sugegasa" or a sun hat are sufficient.
Pilgrimage equipment can be bought at several temples on Shikoku, including Temple 1 and Temple 6. You don't have to buy all the items and carry them with you on your pilgrimage. Already, the white waistcoat and staff identify you as a Shikoku pilgrim.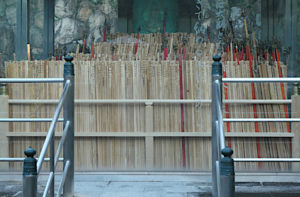 Pilgrim's staff – kongōzue.
Most pilgrims carry a pilgrim's staff with them on their journey. Even if they are travelling by bus or car. For walking pilgrims, the pilgrim's staff is a good support when walking. Especially on the ascents and descents of the pilgrimage route.
Pilgrim's white west – worn by many pilgrims on their journey. With long sleeves (hakui) or as a sleeveless west (oizuru).
Sedge hat – used to be made of grass or rice straw. Helpful as protection from rain and sun. Can be kept on while visiting the temple (sugegasa).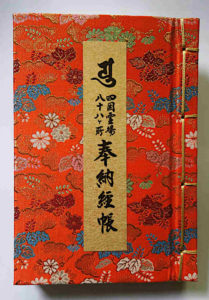 Pilgrimage book – nōkyōchō.
osamefuda – Visiting card left at the temple by a pilgrim. Also given to locals or fellow pilgrims in gratitude for their support (settai).
Other pilgrimage utensils – pilgrim's bag, incense sticks and candles to burn at the temple
The decision which technical items are useful for the hike varies individually. Here are some suggestions to help you make your decision. In addition to the device, also plan for the necessary accessories and, if necessary, an adapter for the Japanese sockets.
Smartphone – replaces several other devices, objects. With torch function, a possible alternative to torch, headlamp. Substitute for camera, notebook, dictionary, etc.
Tablet – replaces several other devices, objects. Possible alternative to camera, printed guidebook, pilgrim's guide, etc.
Laptop – useful in exceptional cases.
Camera – difficult to do without for photo enthusiasts. Heavy weight depending on model. Much additional equipment required; battery, charger, spare battery, memory cards.
Headlamp, alternatively torch
Useful for routes through road tunnels that are up to 2 km long and partly poorly lit. And for all those who start in the morning before sunrise or walk until late in the evening. On my pilgrimage in March, April 2018, I had my smartphone, tablet, compact camera and headlamp with me.
I did not use the headlamp at that time. In some tunnels I went through, a lamp was useful. The torch function of my smartphone was sufficient for that. Then in 2019, I went without a headlamp. 
On the next hike, I will again take a simple, light headlamp for safety reasons.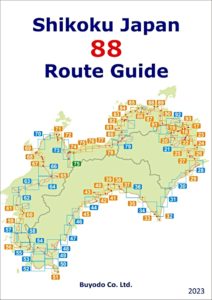 Shikoku Japan 88 Route Guide –Pilgrimage guide with detailed maps for the Shikoku pilgrimage walk.
Personal documents – passport, bank card, credit card.
Waterproof bags, protective covers – for moisture-sensitive items carried outside the backpack, such as personal documents or smartphone.
Medication and drugstore items – according to your own needs. It is recommended to take plasters and blister plasters with you.
Knife and small scissors – the knife I used mainly for peeling and cutting fruit. The scissors are useful for cutting plasters.
Lighter – for lighting candles and incense sticks at the temples.
Writing pen – used for writing on the pilgrims' visiting cards (osamefuda), among other things.
Safety pins – two pieces
Souvenirs – I brought some postcards from Munich for this. All light and easily transportable items are suitable.
Go light.
Everything you take with you on the pilgrimage will be in your backpack or on your body for several weeks.
Use the opportunities to keep the weight of your equipment as low as possible.
By cutting down, by using your equipment more than once, as with the multi-functional scarf, by using the onion skin principle for your clothing.
A lot of things can be bought on Shikoku in pharmacies, chemist's shops and supermarkets if a need arises.
While preparing for my pilgrimage, I came across different recommendations on the internet and in print media. "The fully packed backpack should not be more than 10 to 15 % of the body weight or not more than 10 kg for men and 7 kg for women etc."
Backpack and contents together weighed eight kg on my hike. Before starting the hike, I often walked to strengthen the leg muscles, usually without a backpack or with much less weight in the backpack. During the pilgrimage, the extra eight kg on my back was easily manageable.