For anyone walking the Shikoku Pilgrimage, the "Shikoku Japan 88 Route Guide 2023" is an indispensable travel companion.
The Shikoku Pilgrimage Guide - in English
The pilgrimage guide has been updated by Naoyuki Matsushita and its eighth edition was published in February 2023.
As a handy paperback (width 13 cm; height 18 cm; book thickness 1 cm), with 192 pages and a backpack-suitable weight of 250 grams.
With compact information on all 88 temples and information on pilgrimage equipment, temple etiquette, railway connections on Shikoku and other topics. More than 150 pages with detailed maps of the total 1,150 km. All routes to the 88 temples and to the 20 secondary temples (bekkaku) are described. Including distances, altitude and alternative routes. Extremely helpful for planning the daily stages on site.
With location information and telephone numbers for accommodation (minshuku, ryokan, business hotels, etc.). Restaurants, convenience stores, rest stops and much more are also indicated.
The Shikoku Japan 88 Route Guide costs 1,980 yen (15 USD) in Japan. Available at Tokushima Station's souvenir shop or at Temple 1 Ryōzen-ji, among other places.
The title is also available from some online booksellers outside Japan.
Elevation profile of the Shikoku Pilgrimage Route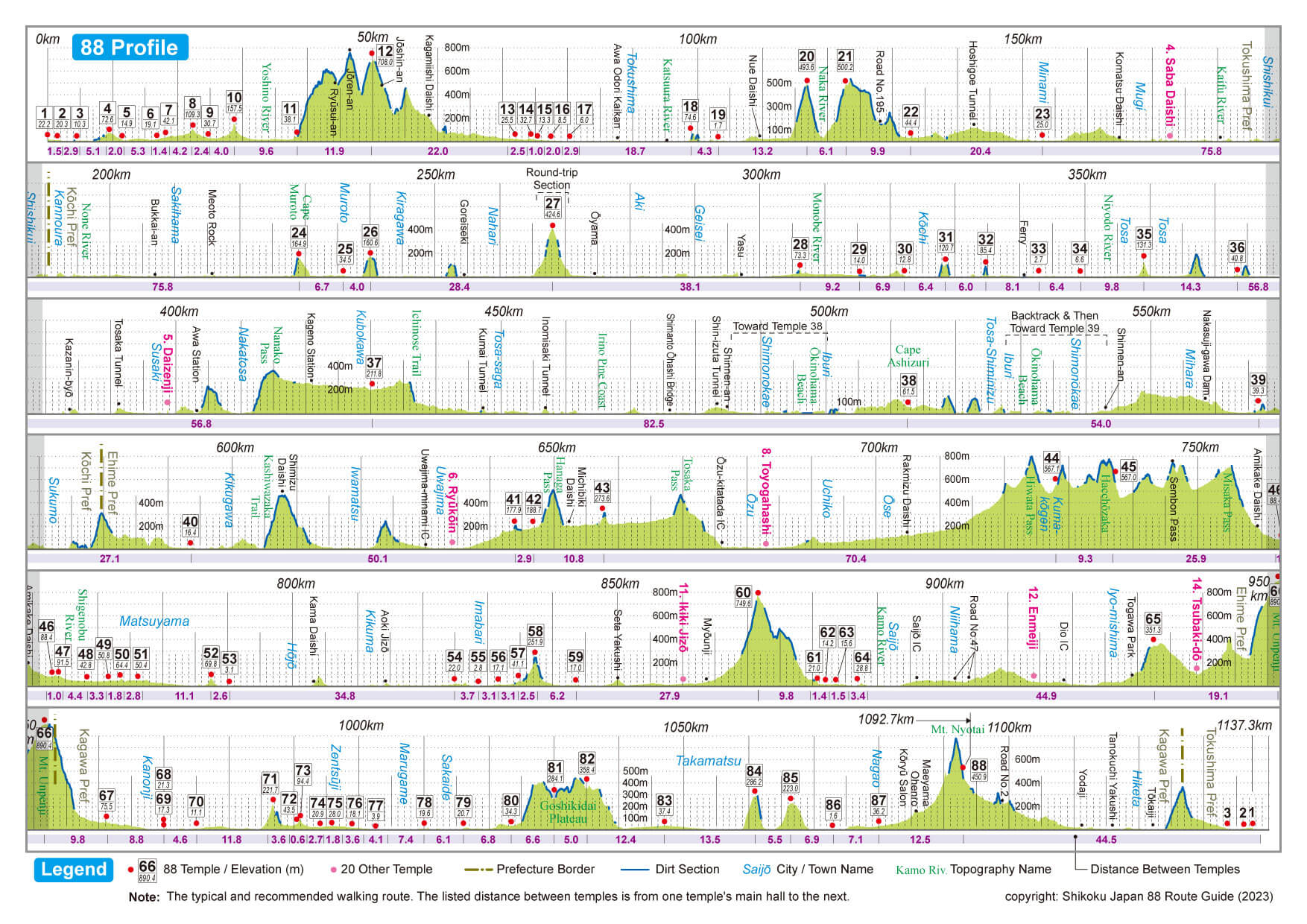 Many thanks to Matsushita-san, the author of the "Shikoku Japan 88 Route Guide 2023" for providing the view into the book files and the elevation profile.
Further information at: henro88map.com
Contents - Shikoku Japan 88 Route Guide
Table of contents: 1 page
Legend: 3 pages
Index map: 8 pages
Elevation and distance map: 2 pages
Kūkai (Kōbō Daishi): 2 pages
Useful information: 5 pages
Proper etiquette at a temple: 2 pages
Oaths and precepts: 1 page
Basic information on Buddhist statues: 3 pages
Pilgrim attire and other items: 2 pages
Access: 4 pages
Guide maps: 154 pages
Guide maps (Mt. Kōya): 2 pages
Practical phrases: 2 pages
List of public information sources: 1 page
Hiking and outdoor shops: 1 page