My accommodations in February, March and April 2023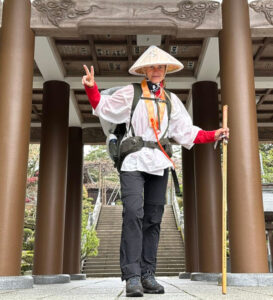 Margreet Botter (52, Netherlands)
While travelling, I'm always Maggy, because that's a lot easier to pronounce.
I walked the whole Shikoku Henro in late winter and spring 2023, starting at the 21st of February, when it was still cold and very quiet. Although I walked together with other pilgrims at some stages, most of the time I walked alone.

I reached temple 88, Ōkuboji, after 46 days. What a wonderful moment that was!
I had two days of rest during my walk. It was a very intense experience in very many ways: physical, mental and spiritual.
I wish everyone an experience like this …
Here are the details of the accommodations I stayed in during my pilgrimage. With a description of my accommodations in February, March and April 2023. With details of the location, with costs and with my personal rating.
km
Distance from Temple No. 1 (Source: Shikoku Japan 88 Route Guide 2023)
Name
BH Business Hotel
GH Guest house
HH Henro House
M Minshuku
R Ryokan
S Shukubō (temple accommodation)
My Rating
⭐ would not book again
⭐⭐ next time probably somewhere else
⭐⭐⭐ recommendation
⭐⭐⭐⭐ strong recommendation
⭐⭐⭐⭐⭐ outstanding/Top
Costs
¥ less than 4000 Yen
¥¥ from 4000 to 6500 Yen
¥¥¥ from 6500 to 8500 Yen
¥¥¥¥ more than 8500 Yen
(As of September 2023: 1000 yen equals approximately 6.80 USD or 6.35 EUR)
Place /
km /
Day
Name /
my Rating
Booked via
Costs /
Meals
Description
Osaka
Day -2

Hotel Nikko
⭐⭐⭐⭐⭐
booking.com
¥¥¥
breakfast
Located at Osaka KIX airport and near the train station. Quiet rooms, great breakfast buffet, and easy access to the train to Wakayama. English-speaking.
Tokushima
Day -1
Hostel PAQ
⭐⭐⭐
booking.com
¥
none
Located in the heart of Tokushima, ten minutes' walk to the station. Simple Western-style room with private bathroom. Shared common area. Luggage storage available. English-speaking.
T1
KM 0
HH Ichiban-monzen-dori
henrohouse.
jp/en
¥
none
Not personally stayed, but many consider it the starting point of the pilgrimage. Highly regarded with a dedicated owner.
T6
KM 17
Shukubō T6 Anrakuji
088-6942046
¥¥¥
dinner +
breakfast
Many pilgrims choose to book their first night of the journey at Temple 6. I haven't been there, but I've heard positive stories.
T7 - T8
(closer to T8)
km 20
Day 1
HH Okudaya
⭐⭐⭐⭐
henrohouse.
jp/en
¥¥
none
Private Japanese rooms, shared bathroom. No breakfast or dinner, but the host takes you to a nearby onsen (with a restaurant) and konbini. A great introduction to onsen, as the host explains the process. English-speaking.
T10 - T11
(closer to T11)
km 34
Day 2
HH Awarakuya
⭐⭐⭐⭐
henrohouse.
jp/en
¥¥
none
Private Japanese rooms (also dormitory), shared bathroom. Optionally includes a delicious Japanese dinner and breakfast with other guests. Owner can pick you up from/to T11 and offers recommended luggage transport service with Sudachi An. Limited English, and they'll take a standard family photo with you (if desired).
T12
km 54
Day 3
Sudachi An
⭐⭐⭐⭐⭐
null1903
@gmail.com
¥¥
dinner +
breakfast
Owner Takeshi is my hero, so please give him greetings from Maggy. For February 2023, the only option after the tough stage from 11 to 12. Book in advance, as it's popular. Includes dinner and breakfast (if desired), Japanese room, shared bathroom. They shuttle you to the nearby onsen (and you'll really look forward to that after this hike!). English-speaking.
T17-T18 Tokushima
km 89
Day 4 and 5

Hostel Coliberty
⭐⭐⭐⭐
booking.com/
Airbnb
¥¥¥
none
Offers both budget dormitory and private rooms (Western and Japanese) with shared bathrooms. Very friendly host and a very pleasant common area. Baggage storage possible. Located at the foot of Mt. Bizan. A fifteen-minute walk from Tokushima station. I decided to stay here for a few days while traveling back and forth to temples 13 to 18. I also sent a part of my baggage here halfway through the journey. English-speaking.
T19
km 108
Day 6
HH Nishimura
⭐⭐⭐
henrohouse.
jp/en
¥¥
none
It's a bit like staying at your grandma's place. One big Japanese room with a small lounge area. You share the shower and toilet with grandma. Also, a dormitory with bunk beds. She prepares delicious food, and dinner and breakfast are similar. No English.
T22
km 134
Day 7
Panda House
⭐⭐⭐
090-15736581
¥
none
Very beautiful location, near a temple complex with ancient trees. The owner does this as a side thing and can't quite keep up, so it's a bit messy, but very cozy, with a kitchen where you can cook for yourself or heat up what you've bought (the host takes you to the supermarket). Western room, shared bathroom. Speaks a bit English.
T23
km 152
Day 8
and 9
GH Oyado Hiwasa
⭐⭐⭐⭐⭐
080-8303920
¥¥
breakfast
Absolutely the most beautiful guesthouse I've been to. Hiwasa is also a beautiful place. I stayed an extra day there to go to the beach and do some biking. Japanese rooms, shared bathroom (including a bath). Onsen nearby. No dinner, but breakfast and a kitchen for cooking/heating. Supermarket nearby. English and French-speaking.
T23 - T24
km 184
Day 10
HH Haryūgetsu GH
⭐⭐⭐⭐
henrohouse.
jp/en
¥¥
none
Incredibly nice surf vibe, relaxed, basic accommodation (Western style). The kind of place you want to stay for a few days at the beach. Very sweet, cool owners (the man is a seventy-year-old surf dude) with a cute little child. English-speaking.
T23 - T24
km 214
Day 11
M Tokumasu
⭐⭐⭐⭐

0887-272475
¥¥
none
Spacious Japanese rooms with the best dinner I tasted on my journey, all local and made with a lot of love. Speaks a bit of English. Right at the foot of the temple in a beautiful harbor town. Japanese room. Ideal on the route. Little English-speaking
T25
km 236
Day 12
R Ōta Ryokan
⭐⭐⭐
0887-220004
¥¥
none
Right at the foot of the temple in a pretty harbour town. Japanese room. Ideal on the route.
T27
km 264
Day 13
M Tōnohama
⭐⭐⭐⭐
0887-388827
¥
none
Very close to the route, run by a monk. Spacious Japanese rooms. The great thing about this location is that you can leave your luggage if you hike up and down the mountain to and from T27.
T27 - T28
km 282
Day 14
Hostel Kochi-no-ya
⭐⭐⭐⭐
booking.com
¥¥
none
Very atmospheric mix of Japanese and Western style with attention to detail, both dormitory with bunk beds and separate rooms. A small cozy pub between 20 and 22 hours.
T28
km 305
Day 15
HH GH Suisen
⭐⭐⭐⭐
booking.com /
henrohouse.
jp/en
¥¥
none
Very spacious room, good bed, very helpful (a bit motherly) host, free breakfast. Western and Japanese rooms. Booked via Booking because there were no rooms available through Henrohouse. Speaks a bit of English.
T30 - T31
km 328
Day 16
Harimayabashi GH
⭐⭐
booking.com
¥
none
Cheapest overnight stay. In a dormitory in the center of Kochi. With earplugs, it's fine, and very cozy. Many restaurants around the corner. A bit farther from the temples.
T34 - T35
km 353
Day 17
Kochi House
⭐
booking.com
¥¥
none
Sleeping in bunk beds at grandma's, that's what it feels like here. The room has 6 sleeping spots and it gets tight when they're all occupied. Doesn't speak a word of English, but grandma is sweet. Some restaurants nearby.
T36
km 371
Day 18
Sanyō-sō
⭐⭐⭐⭐
088-8560001
¥¥¥¥
dinner +
breakfast
Good location both for T36 and the ferry as well as the coastal path. Nice onsen at the hotel and very tasty food. A treat.
T36 - T37
km 405
Day 19
Awa GH
x
¥
none
Seems to be permanently closed now, and that's probably for the best...
T37
km 430
Day 20
Shukubō T37
Iwamotoji
⭐⭐⭐⭐⭐
0880-220376
¥¥¥
dinner +
breakfast
My first and only temple stay. A very beautiful place with spacious rooms and good food. It's really special to be present during the "morning prayer."
T37 - T38
km 459
Day 21
Lodge Umibōzu
⭐⭐⭐⭐
0880-441146
¥¥¥
dinner +
breakfast
Hotel overlooking the sea and a plus for that reason alone. Japanese rooms. Delicious food. Fine distance between temples.
T37 - T38
km 490 and 540
Day 22
and 24

Anshuku
⭐⭐⭐⭐
0880-840567
¥¥
none
Near the bridge with a convenience store around the corner. A good distance from T38, so you can walk there in three quarters of a day. It's like stepping into a café, with an old-fashioned messy and cozy look. The Japanese-style rooms are large and beautiful. No English.
T38
km 514
Day 23
The Mana Village
⭐⭐⭐⭐⭐
booking.com
¥¥¥¥
breakfast
If you want to treat yourself to luxury somewhere, do it here. Beautiful hotel, with an onsen overlooking the ocean. Free drinks in the lobby with a beautiful view. Try to get a room with a sea view.
T39 - T40
km 574
Day 25
BH Avan Sukumo
⭐⭐⭐
booking.com
¥¥
none
Good quality, but somewhat anonymous business hotel.
T40
km 594
Day 26
Aoikuni BH
⭐
0895-722131
¥¥¥
none
Colorless business hotel with smoking rooms. I don't recommend it unless there's nothing else available. No English.
T40 - T41
km 619
Day 27
Sunadanojia
⭐⭐
booking.com
¥¥
none
The location of this accommodation doesn't match Booking.com (it's about 2 km earlier on the route). The host doesn't speak English, which made finding this place difficult. The accommodation itself is a complete cottage, near a large supermarket, which was nice. Still only recommended if you speak Japanese.
T43 - T44
km 680
Day 28
and 29

HH Tokiwa Ryokan
⭐⭐⭐⭐
henrohouse.
jp/en
¥¥
none
Very pleasant accommodation with a kind host and close to some very good restaurants. Ozu is the kind of place where you want to stay an extra day.
T43 - T44
km 712
Day 30
Tado Village
⭐⭐⭐⭐
0892-523883
¥¥
dinner +
breakfast
Beautiful new accommodation with spacious rooms (dormitory-like) and a large common area. Meals included (because it's in the middle of nowhere). Speaks a bit of English.
T44 - T45
km 731
Day 31
M Hacchōzaka
⭐⭐⭐⭐
0892-410678
¥¥
none
If you want to fully experience the magic of T45 and be there early in the morning, this is the perfect base. Great rooms (Western style) and fully equipped. English-speaking.
T46
km 763
Day 32
R Chōchinya
⭐⭐⭐⭐
089-9630280
¥¥
dinner +
breakfast
Kind of a temple accommodation with a shop and a huge dining hall and good food. Nice place before entering the big city. English-speaking.
T51 - T52
km 780
Day 33
and 34
and 35

REF M City Station by Vessels
⭐⭐⭐⭐
booking.com
¥¥¥¥
breakfast
In Matsuyama, there are accommodations for every budget. This one is above the station, making it a good base for a few days in the city, but there are many more options. Nice small onsen and western style breakfast. English-speaking.
T53 - T54
km 800
Day 36
HH Hōjōsuigun
⭐⭐⭐⭐
henrohouse.
jp/en
¥¥
none
A messy and somewhat dirty accommodation with private facilities and a very sweet, hospitable host. A pleasant stop on the way to T54.
T54 - T55
km 830
Day 37
Riverside Hotel
⭐⭐⭐⭐
booking.com
¥¥
none
A love hotel with a unique check-in procedure, but a very nice room with a huge bathtub, and it's right in the middle between both temples.
T62
km 882
Day 38
Nojima House
⭐⭐⭐⭐⭐
trombird3636
@aurora.
ocn.ne.jp
¥
none
A rarity. Owner Taniguchi Norifumi does everything to make pilgrims comfortable and cares deeply for them. He makes his deceased uncle's house available for a free gift and will help you in need. This man deserves a statue.
T65
km 929
Day 39
BH Route-Inn Shikoku Chuo
⭐⭐⭐
booking.com
¥¥¥
breakfast
Nice business hotel with a comfortable bed, good breakfast, just a bit far from the route if you're walking, so not 4 stars.
T67
km 962
Day 40
M Skikokuji
⭐⭐⭐⭐
0875-279444
¥¥
dinner +
breakfast
Just a nice place with a spacious Japanese room, good food, and a kind host.
T72 - T73
km 989
Day 41
Kyoto Love Hotel
⭐⭐
booking.com
¥
none
Somewhat run-down hotel, good bed and room. The check-in and check-out procedures are a bit complicated, but there's help nearby.
T78 - T79
km 1012
Day 42
BH Route-Inn Sakaide
⭐⭐⭐
booking.com
¥¥¥
breakfast
Not all Route-Inns are of the same quality. This business hotel was okay, but slightly less luxurious than the previous one I stayed in. It's a decent chain, though.
T82
km 1035
Day 43
HH Kappa Dōjō
⭐⭐
henrohouse.
jp/en
¥
none
There's a somewhat strange, strict atmosphere here with rituals around meals. It's run by a Zen Buddhist with morning meditation (not my thing). There's a cozy common area in the 'sleeping building' and a spacious room at a good price. English-speaking.
T84
km 1056
Day 44
BH Prince
⭐⭐
booking.com
¥¥
none
Somewhat anonymous, nondescript hotel, but it's on the route and has a large supermarket in front of it with lots of fresh fruit. No English.
T87
km 1080
Day 45
HH Yado-inn TEK-TEK
⭐⭐⭐⭐⭐
booking.com /
henrohouse.
jp/en
¥
none
The rooms are tiny, but that's compensated by a very large and cozy common area. You would have wanted more of these accommodations on the route because you meet other travelers there. English-speaking.
T88
km 1093
Day 46
M Yasokubo
⭐⭐⭐⭐
0879-562031
¥¥¥
dinner +
breakfast
At the foot of T88. The perfect place to end your journey and raise a glass with fellow pilgrims. Speaks a bit of English.
T8 - T7
km 20
Day 47
HH Okudaya
⭐⭐⭐⭐
henrohouse.
jp/en
¥¥
none
Back to the place of my first day. It's nice to experience how different you are from the uncertain beginning of the pilgrimage.
Tokushima
km 0
Day 48

Coliberty Hotel
⭐⭐⭐⭐
booking.com/
Airbnb
¥¥¥
none
I had sent my excess luggage to this hotel. Had great contact throughout the journey, and it felt a bit like coming home when I saw host Ai again.
Maggy and I met several times during our pilgrimage on Shikoku in spring 2023. The first time just shortly before temple 35.  And the last time on the pilgrimage path between temples 44 and 45.
Thank you very much, Maggy, for sharing here your experiences with the lodgings you stayed in during your Shikoku pilgrimage and for all informations you gathered for the accommodation list.
Kuri