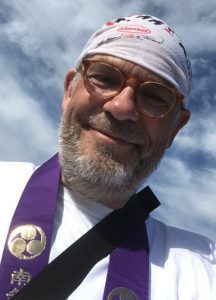 Oliver Dunskus, was born in Paris in 1962 and grew up in France, England, Germany (Frankfurt, Hamburg, Munich, Düsseldorf) and Japan. 
Beside his passion for Shikoku and the pilgrimage trail, he has a passion for jazz. Oliver plays jazz guitar and has published a biography about jazz guitarist Wes Montgomery.
In 2018, his first book on the Shikoku Pilgrimage Trail was published.
He now lives near Düsseldorf.
How did you get into pilgrimage on Shikoku?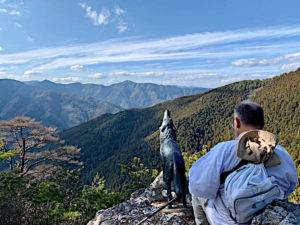 I came to pilgrimage through my father, who was a frequent pilgrim in Spain in his retirement.
At some point I accompanied him – the first time on the Ruta de la Plata in 2011, then on the Camino Levante in 2013, and finally on the Camino Mozárabe in 2013. He (a Japan expert) told me about the Shikoku Pilgrimage, which he had never set foot on.
I first came to Shikoku in 2015, returned in 2016 and walked the temples of Tokushima province.
In 2017, I cycled from Kōchi through Takamatsu and came full circle at Temple 1 (900 km). In 2019, I spent four weeks in Shikoku on my second loop.
2020 I visited the temples of Kagawa Province again, and in February/March 2023 I will be there for the sixth time.
What was the motivation behind your pilgrimage guide?
The first edition of my German guidebook for Shikoku pilgrims was published in 2018.
My motivation was a mixture of my enthusiasm for the subject and the lack of good literature. There was nothing in German, at best the one or other field report, but they do not describe the route. Not in detail and not completely.
The first two trips of the total of five I made without the route guide (note: referring to the "Shikoku Japan 88 Route Guide" by Naoyuki Matsushita). I knew it was available, but I didn't know where to buy it.
As for maps, I had a map from the tourist office in Kōchi about the Shikoku Pilgrimage Route. It was the large folding map. Which unfortunately is no longer available as a paper version. I took three of them with me. For navigation, I used this map, along with Google Maps, and walked some temples near the four major cities.
That was in 2015, on my first pilgrimage. At that time, I visited about 20 temples in 10 days. That's what got me hooked. Of course, I wanted to see all the 88 temples after that.
I don't have many hobbies, but all of them I pursue for a long time and in great depth. These include music, and since the first pilgrimage, Shikoku, and the Spanish Camino de Santiago. The more I know about a subject, the more I enjoy it.
At some point, I read everything I could get my hands on about Shikoku. Books; brochures that I collected in Shikoku. By now I have a nice archive.
I thought, there is much more to say about the temples of Shikoku, which were often treated very briefly. Also in the temple's own presentations on the Internet. In English, the information is often limited to a few sentences.
In the end, I sorted the pieces of the puzzle I had collected and put the 88 temples and the paths between them into a book.
I spent many evenings walking the pilgrimage route again virtually with Google Maps and Google Street View. There I looked up to correctly describe some details that I had forgotten.
The work on the first edition took about half a year. During those months, I spent many evenings and weekends researching and writing. And often had fun working into the night.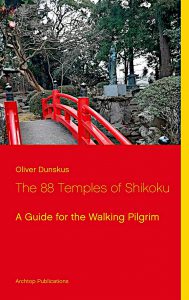 In my book, I describe pilgrimage and the pilgrimage route. I want to encourage people to try it. Even if you do not speak any Japanese, it is easier than you think. I said to myself: if there is a book like this, people will dare to set out on the path.
And Shikoku deserves people to try it.
Secondarily, I wrote the book for myself to study it all again.
I included my experiences from two other trips to Shikoku. There I focused a bit more on the secondary temples (Bekkaku) and the inner sanctuaries (Okunoin).
For every temple, there is a page explaining the history, background and points of interest. And for every stage between temples, the route is explained including its difficulties, sometimes with altitude profiles and again points of interest.
On my first trips, it always bothered me a little to be in one of the old, beautiful temple grounds and not to know what all the buildings were about. And no one explains it to you. Temple 75, Zentsuji, for instance, is a huge site with 30 or 40 buildings. And I added and completed some historical anecdotes.
There are practical tips too, like on which stage should pilgrims take along some food if there are no restaurants or stores along the way.
What other books about the Shikoku Pilgrimage do you recommend?
There are many autobiographical accounts of experiences by people who have walked the pilgrimage route. I would like to recommend these travelogues:
"The Cicada's Summer Song" by Lu Barnham (in English). Wonderfully, very warmly written.
"Fighting Monks and Burning Mountains: Misadventures on a Buddhist Pilgrimage" by Paul Barach (in English).
Paul is an American comedian who describes the path in his own way. Quite naive and unprepared, and his various belly landings he describes in great detail.
While reading, I laughed a lot. I read the book while walking analogously to his stories in the same places, and then at some point began to chat with him daily in the process.,
Of the historical books, these are well worth reading:
"Two on a Pilgrimage: The 88 Holy Places of Shikoku" by Alfred Bohner, re-edited by David C. Moreton (in English).
Alfred Bohner walked the pilgrimage route in the summer of 1927, and in the book he gives an account of the temples and of his travel experiences.
Visiting the Sacred Sites of Kukai: A Guidebook to the Shikoku Pilgrimage" by Tateki Miyazaki, edited by David C. Moreton.
David is a true connoisseur of pilgrimage history. He has lived in Shikoku for a long time and can read Japanese very well. He has a very large archive about the Shikoku Pilgrimage.
"Japanese Pilgrimage" by Oliver Statler (in English; unfortunately now only available in second-hand bookshops).
I would also like to recommend two scholarly books:
"Making Pilgrimages: Meaning and Practice in Shikoku" by Ian Reader (in English).
"Pilgrims Until We Die: Unending Pilgrimage in Shikoku" by Ian Reader (in English).
Will there be a new book from you?
Right now, I've been on a writing break for a few months. It's good for me not to have any pressure to write.
I've had a big book project in mind for some time: it's a comparative religion look at Shikoku. I'm particularly interested in the connection between Shinto and the Buddhist temples. How much Shintoism is there in the Buddhist pilgrimage route? What about the Shinto shrines along the way? There is almost no publication about that.
I've been working on this for a while. It's a big construction site that I work on occasionally. I don't know if I'll ever be finished with it. But now I'm giving myself a creative break.
I can also imagine writing about the 88 temples of Shōdoshima. Or a biography about the adventurous life of John Manjiro.
Most concrete, however, is a book project for pilgrims who don't walk the Shikoku pilgrimage: A version of "88 Temples in 55 Days" for people who want to use public transportation on Shikoku while making the pilgrimage. Which is nothing to object to. Each pilgrim goes on pilgrimage in his own way.
When are you planning your next trip to Shikoku?
In February/March 2023, I will travel together with two friends.
The planning is already complete. It will be a "Best of Shikoku." I want my friends to see a lot of Shikoku.
And for my own interests, there is a lot planned as well.
This will be my sixth Shikoku trip.
And the seventh will finally go to the west coast of Shikoku again, among other places to the birthplace of my favorite hero John Manjiro.
"The 88 Temples of Shikoku: A Guide for the Walking Pilgrim" is published in English, French and German.
Many thanks to you, Oliver, for taking so much time for our interview. 
The questions to Oliver were asked by Kuri.